I bought a huge bag of chocolate chips at Costco and it's presence in the house has caused me an uncanny hunger for chocolate chip cookies. Our first attempt was to just follow the recipe for the Original Nestlé Toll House Chocolate Chip Cookies on the bag. This left much to be desired, though I will admit to being at least partly at fault: we forgot the brown sugar and had to add it at the end. Our second attempt was based on Chocolate Chip Cookies - Four Ways by Shirley Corriher, food scientist and author of Cookwise, specifically the fourth way, In Between. Thanks to Eric for pointing me to Shirley's recipe.
We did things a little differently than Shirley suggests: I don't like nuts so we left that part out entirely, and I prefer a lighter color so we used part brown sugar and part white. Ours ended up taking only 9 minutes in the oven but that's probably because we don't have an oven thermometer and the dial is probably somewhat off.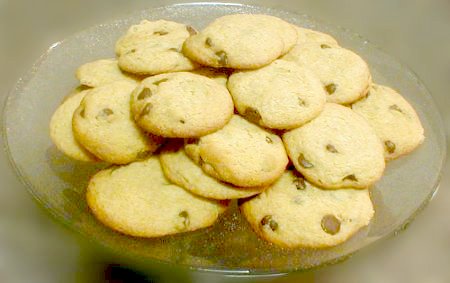 By some accounts it's the shortening that makes the cookies a little puffier. I haven't gone through the differences in the Four Ways enough to have learned all there is to know about controlling how your cookies come out but we were very happy with the results of this attempt.