We went down again to see what progress has been made on the house, hoping that the foundation was done -- it was, and we're pretty happy with the results so far. Contrary to our former fears it looks like the crawlspace will be deep enough for me to stand in.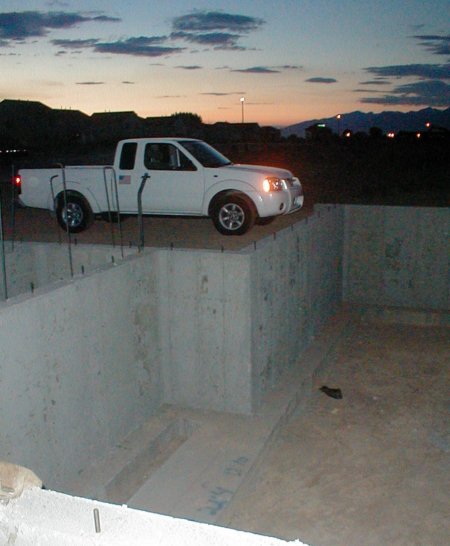 We'd been warned by some friends that the foundation will make you think you're house is way smaller than it actually is, so we were prepared for the worst. It doesn't really look all that bad, except the garage. When we walked into the area that will become the garage we both thought, "oh no!" Even after parking in it to try it out we're still a little worried. If we keep it clean we'll probably be able to park in it but it doesn't seem likely that a lawn mower or a freezer will ever live there. That might be okay 'cause I'd already decided I probably want to own a shed eventually.
Luckily Rebecca thought we should go look at a framed garage and see where the walls come to. We walked over to a house behind ours and found our neighbors sitting in their garage, which really doesn't look all that bad once the walls are up. I was afraid that the walls would come all the way to the inside edge of the concrete but they don't, there are a few more inches on either side. They told us that the house looks bigger once it's framed, and even bigger once it's finished. We'll take comfort in that. They also said they're probably going to finish their crawlspace eventually but I find myself wondering how you get a sheet of drywall down through a hole just barely big enough for me.
The other encouraging / scary thing our neighbors said is that where our house is right now their's was a week ago. We may indeed be moving in October rather than December if things keep up the way they're going. This could be good because we'd love to move in while the weather is still good but it could be bad because we won't have as much time as we thought we would to save money. I may even ask them to let our schedule slide a little if they can. We'll see.