This is where that white box they've been building starts to actually look like a home. It's also where I go from asking myself what on earth I'm paying them for to realizing that this is going to be a place my family can live, and make dinner, and maybe even entertain a few friends.
Last week they installed the cabinets, counters and appliances: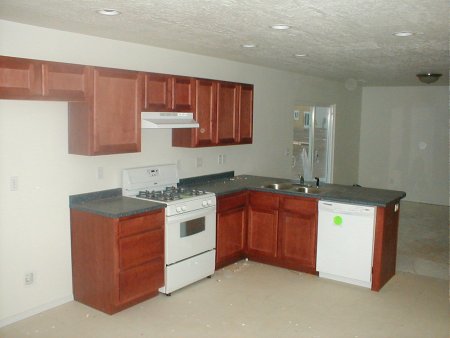 In the master bathroom we had them raise the counters 6 inches higher than they would otherwise stand: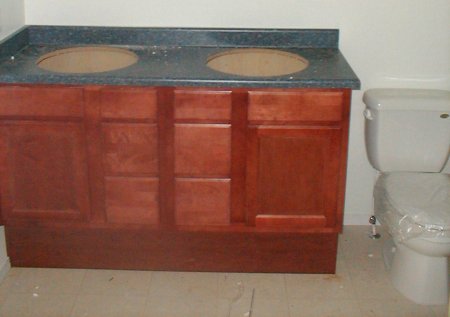 We also got a very nice toilet, as you can see, but more about that later perhaps. In retrospect I wonder if we should have chosen two colors for counters so that the kitchen would look different than the bathrooms. I really like the colors we picked though. After they turn the power on I'll get some better pictures.
Lights have also been installed. I'm very glad we upgraded the lights, particularly in the kitchen. The base house had one of those lovely fluorescent bars I despise so much. We opted to have recessed-can lighting instead. They look so much better it almost makes me giddy.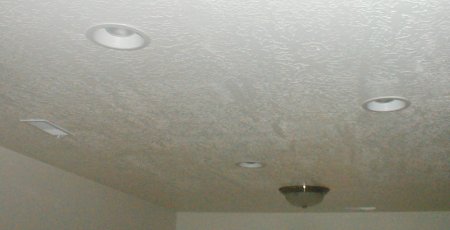 We also had them install a water-softener. Not because we wanted one but because they wanted to install it for free and let us try it out for a month and I know it can be difficult to add one after the fact. The thing's so huge though that I may even have them call the plumber in to remove it before we close: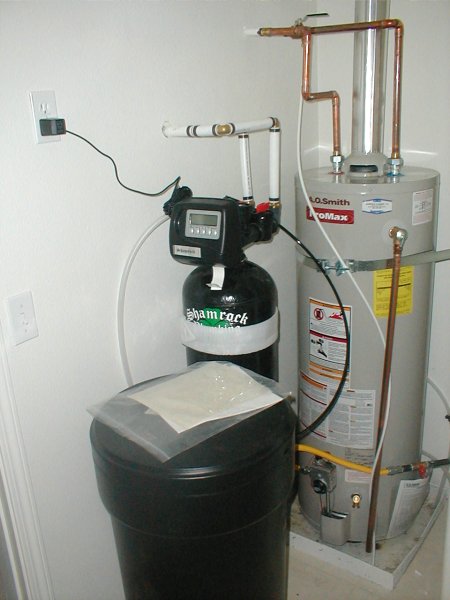 The truth is I just don't like soft water. I don't feel clean after showering in it even if I may actually be cleaner. I've heard arguments from all sides on that one. And I know that a water softener protects your appliances and fixtures but I just don't know if it's worth it to me and I certainly don't want to spend the money for it right now.
We still can't figure out why we didn't buy our fridge, washer, and dryer from the builder. At the time I was sure I could find a better price (I'm still sure I can) but if we had let them do it we wouldn't have to go purchase and install them ourselves. It's really a very close trade-off (which, of course, is the ideal indicator that they priced it exactly right).