Doctored Cake
We baked a cake for dinner with the Browns last week. It was a cake Rebecca and I had sampled at my Mom's house and I needed to have again.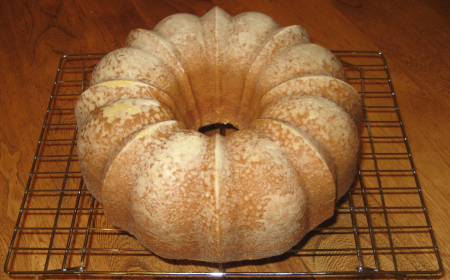 While it's obvious my dusting technique is wanting, that didn't affect the taste. Given the opportunity the Browns and Jorgensens would have devoured at least half a cake more.
Cake mixes are awesome. They've got all kinds of neat stuff in them to make it hard to fail. They can also be boring. People will even try to fix a boring cake by putting frosting on it. Yuck! By contrast cakes from scratch require some education and some care to get right. Luckily you can have your cake and eat it to. Cake mixes can be used as the basis for tastier, more interesting baked goods.
The cake in question here is Almond Cream Cheese Pound Cake from The Cake Mix Doctor by Anne Byrn.
We were once given a bag of some unknown mix and directions for cookies. Months later we finally gave it a try and were delighted at the results. We hungered for more only to discover weeks later what you have already surmised.
Regarding dusting: If someone knows of a store in Utah County where I can get some Baker's Joy please let me know, or just bring me some. Pam makes a similar spray but I am told that lecithin can leave a sticky residue on my Bundt® pan.