First Day of Summer
Noah and I decided to camp in the back yard for the first day of summer. John helped setup the tent. Having a two-year-old help setup an old dome tent with fiberglass poles can be frustrating but we got through it.
We looked at stars some but mostly we talked. I told him about memories I have of camping and the kinds of things I talked to my Dad about. I also told him other stories from my childhood. Now he asks me to retell those stories and says how fun he thinks my family is.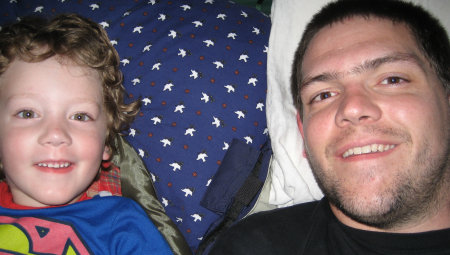 I highly recommend air mattresses. They're good for overnight guests too. Way more comfortable than a hide-a-bed couch and way cheaper too. Thinner is better. The thicker the mattress is the wider the margins you can roll off of. Leaks are a fact of life so save the box and receipt and abuse the 1-year warranty ad infinitum.
A battery powered pump is also a must-have unless your lungs are in really good shape. No, you can't run your canister vacuum off your car power inverter. I found that out the hard way last year.