Square
Last week I finally received my Square card reader!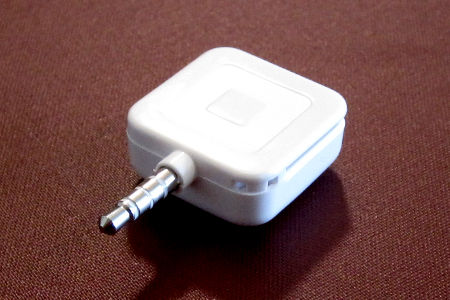 Square lets you (yes, even you!) take credit card payments on your smartphone.  It's easy and free to sign up and the card reader arrives in a week or so. The idea is to lower the barrier to entry so that anyone can accept a credit card.
Why would you want to do that? I'm planning on selling my lawn mower on Craigslist. My mom and my older sisters are amateur (in the sense that they don't make a living off it) seamstresses and one of my sisters has had booths at craft fairs. Our local school could have a bake sale. And of course a yard sale is always possible. As more and more of us stop carrying cash with us everywhere we go it's going to be more and more of an advantage to be able to take credit cards.
Why didn't PayPal come up with this? I have no idea. It would have fit in perfectly with the kind of stuff they were doing already. I will be surprised if they don't at least try to buy it.
Of course this is not ideal for everyone. Retailers can often get better rates than 2.75% + 15¢; And square won't automatically update your proprietary inventory system. But if you're running a side business, or even just a very small business, then square could be just the thing.
When you get your card reader you'll probably want to practice swiping cards. Don't do what I did and authorize large transactions and then cancel them. It takes a few days for those authorizations to fall off your account after they are canceled. Instead just swipe your card with the transaction amount set to $0.
The reader device plugs into your headphone jack so obviously it must send some kind of audible signal. What does the Square reader sound like?
I used a card that expired years ago and for which the account has been closed so at best this gives the clever hacker an expired credit card number and my name.