Slim Wallet Reviews
December 14, 2013 Update: I've just posted a review of SlimFold Wallets , a new Tyvek wallet that I'm kind of giddy about.
Your wallet itself--without contents--could be adding significantly to the bulk in your pocket. As mentioned in a previous post this is something I care a lot about. In this post I review some of the thinnest wallets available.
All-Ett Billfolds
All-Ett sells The World's Thinnest Wallet . If that claim isn't 100% true it's very very close. Their signature wallet features two of the best approaches to slimming your wallet: thinner material and a split deck.
All-Ett uses ripstop nylon, the same fabric power kites are made of. Ripstop nylon is incredibly thin and light for its strength. Four layers of the material (the entire bulk of the wallet) only add up to about 1mm. Seams and stitching make it add up a bit more here and there but your cards and cash will add a good deal more. Two drawbacks to the material are that it can make a slight crinkling noise when bent and can wear small holes over time at the corners of your cards (though it won't rip).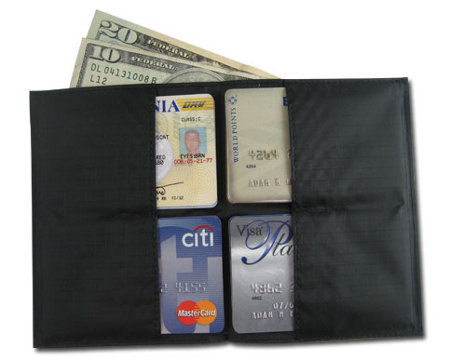 The arrangement of the cards means that already, just by splitting the deck, your wallet is half as thick as it was. Cards are inserted horizontally so they don't fall out when the wallet is closed. The material is a bit slick so you may need to be careful when opening your wallet.
Most of All-Ett's products are also offered with a very thin, high quality leather exterior adding less than 1.5mm total. They also come in a recycled material which has a softer, less crinkly, less slippery feel but is about 3 times as thick as the ripstop. Still that's only about 3mm, probably a lot thinner than what you're carrying now, and you can help save the planet.
I am a big fan of All-Ett. I keep my lesser used cards in their original wallet in my organizer. I also own a card case which unfortunately is not large enough for credit cards, it was designed with business cards in mind.
Big Skinny
The thing that really struck me about Big Skinny is that their tri-fold (normally the fattest wallet design possible) is nearly as thin (8mm) when loaded with everything I normally carry (admittedly not much) as the leather card case I used to carry when it was completely empty (7mm). And that includes features, like a clear ID pocket and several overlapping pockets, you'd normally expect in a standard tri-fold. If you're looking to replace your standard leather wallet with a better model but aren't ready to radically change the contents of your pockets Big Skinny is probably your best option. These wallets still look great when loaded up with cash, receipts, and 30 or so cards.
Big Skinny has clearly spent some time thinking about the problems a wallet is supposed to solve. The nylon microfiber material they use is more flexible than ripstop and has a softer feel. It's water resistant and machine washable. Their designs also make more sense. The Super Skinny, for example, also uses the split deck approach but orients your cards so that the wallet will bend only on the same axis as your cash. That's a little hard to explain so compare the photos of the All-Ett above and the Super Skinny below. With the All-Ett your cash will get folded once and then bent along the other axis as the wallet flexes in your pocket.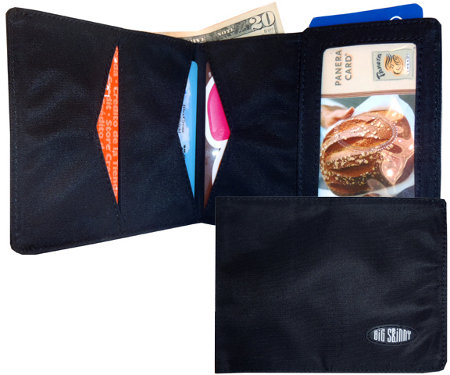 The orientation of your cards also means a higher chance some of them could slip out but Big Skinny addresses this with a rubbery coating on the inside that grips your cards for you. My younger brother has been carrying the one pictured above for a while and tells me his cards still slip out sometimes. It does have this super cool hidden pocket behind the ID pocket though.
I carry the multi-pocket bi-fold because I like the dimensions and I can fit my wallet pen in the space just above the clear ID pocket. Let me add emphasis here: This is my every day carry wallet.
The one thing I don't like about Big Skinny is the sewn-on rubber label they put on the outside. They say it provides a place to grip the otherwise slippery exterior but they could have accomplished the same with a printed label and it just doesn't jive with the "every millimeter counts" mantra (the label itself is 1mm thick).
Money-band
"As simple as possible, but not any simpler." The Money-band is a wide rubber band specially sized to go lengthwise around your cards (and cash if you don't mind folding) and hold them securely. It works as advertised and the minimalism should appeal to many of you.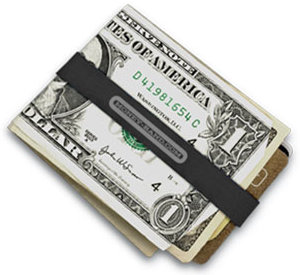 I confess I hoped it would be made of some higher quality material, silicone maybe. My initial suspicion that this was a re-branded broccoli rubber band from the produce section proved false, but if you want to give the concept a try without shelling out $4 the broccoli-band will hold your cards width-wise instead and give you that depression-era waste not want not satisfaction.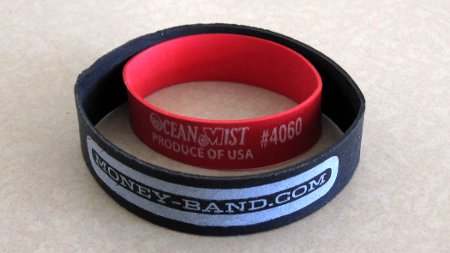 Disclaimer: Each of these manufacturers sent me samples of their products in exchange for links to their sites. I have personally used each of the products reviewed for at least a day, and in some cases weeks. Measurements were taken with a cheap caliper from Harbor Freight (some rounding applied).
Please comment if you would like to suggest another wallet for me to review!