I love Tyvek. It can be terribly thin, durable, recyclable, and inexpensive. The SlimFold Wallet is a new design, consisting of only 4 layers of Tyvek, sewn, rather than folded like the Dynomighty Mighty Wallet. Both versions measure less than 2mm thin, beating out my Ripstop Nylon All-Ett by nearly 1mm.
They come in a variety of attractive, distinctive colors that play nicely with the natural texture of the material. The printing is high quality, and hasn't rubbed off on anything in the weeks I've been using mine.
Original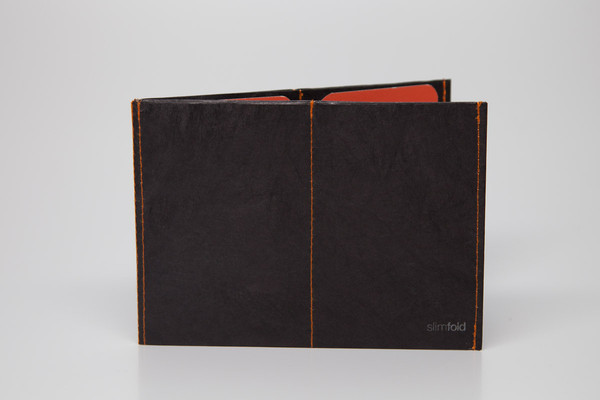 The SlimFold Original is designed to hold 11 cards, including an ID slot, with a pocket for cash. It uses a vertical split deck design that bends easily when folded. Each slot is designed to grip one card, and the manufacturer warns against stretching the slots.
The horizontal split deck of the All-Ett puts the natural fold between your cards at odds with any cash you may have inside. The vertical split deck of the SlimFold Original bends so easily when loaded with bills that you might forget there's cash in it. With four card slots in a row, it's much longer than your cash, so it can have a bit more bulk on one side when folded.
MICRO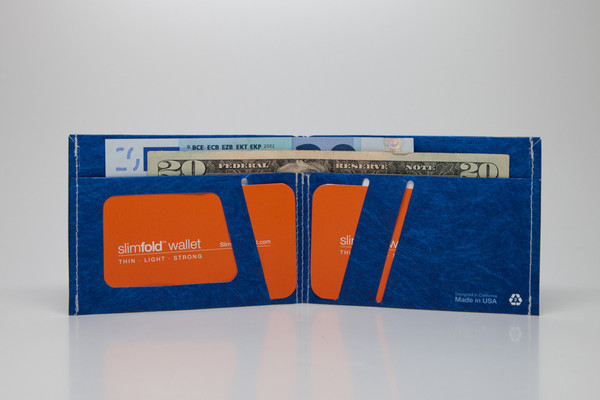 The SlimFold MICRO is a simple bi-fold, otherwise similar to the Original in its construction. The description claims it's designed to hold 8-12 cards, one of them an ID slot. I wouldn't try to put more than 7 in it; 5 is more comfortable. You really shouldn't carry more than that anyway.
When you keep the MICRO in your pocket, the part that isn't held rigid by your cards will bend, which can be unsightly. Any cards you keep in the back bulge out when folded, making a distinct ridge. Overall, I prefer the Original, but you might find it perfect.
Summary
The SlimFold Original is my new favorite wallet, edging out the Big Skinny Tri-fold. It lies incredibly flat, even when full of cash. The one disadvantage is that there's no suitable place for my wallet pen, so now I'm in the market for the ideal pocket pen (spoiler: it's not a Fisher Space Pen, though I do love the shape of the Bullet version). By any other comparison, the Original has the advantage over other wallets I've tried.
Disclaimer: I was provided samples in the colors pictured above. The photos are copied from the manufacturer's site. I strive to keep my reviews fair, frank, and honest. If you'd like to see photos of mine after a few more weeks of wear, please say so in the comments.