Trove Review
Earlier this month, Minh, from Trove, contacted me to ask if I'd like to try his new wallet. I've been skeptical of elastic so far, but wanting to be more open-minded, I asked if he'd send me a sample to review. It arrived, direct from the UK, the same day that my Big Skinny ripped(!). I've carried it for more than a week now. While there are some drawbacks, I'm pleasantly surprised.
On the calipers, Trove measures more than 3 times thicker than other slim wallets I've used, which are generally less than 3mm empty. But Trove is compact, which I can't say of the others, so the design definitely has merit.
A lot of effort has been put into making a quality product. The seam where the elastic is joined is precise, and covered by an attrative label on the side opposite the leather.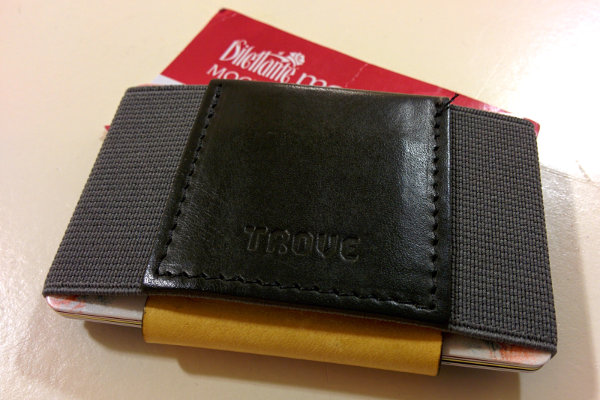 As with some others, there's no place for my pen. There also isn't a place for anything larger than a credit card, unless you're going to fold it. That's a problem for me, because Dilettante makes an excellent Extra Grande Dark Hot Chocolate (63), and their punch card is just a bit too big.
Because of how the leather is folded, there are three slots. I keep all of my cards in the middle. I have two credit cards that are still embossed, so I place those facing eachother, one upside down, so they lay flatter. The slight bulge in the photo above holds my YubiKey NEO and FIDO U2F Security Key. I've also got some cash folded and tucked on the opposite side.
Overall, this is not what I'd term a slim wallet, but it makes up for it by being very compact and snug. I'll be happily carrying it for a while yet. Go pick one up!